Mercedes-Benz of Portsmouth Reviews
---
Great Dealer. I purchased my first GLC when it was Holloway Mercedes. After I ordered my new vehicle my sales person couldn't have cared less. I had to call him for an update on the status. I tried to call him twice for the VIN # and the third and final time I called the receptionist and had her take a hand written note. I sen him a text and it took him 3 days to get back to me. One one particular occasion I told him I was coming to leave some paperwork and when I got there a half ...
We are writing to sing the well-deserved praises of Alex Luu, the sale's professional from whom we recently had the pleasure of purchasing a certified Mercedes for our daughter. From start to finish, Alex exceeded our expectations. He treated us with kindness and respect, thoughtfully focused on our needs and interests throughout and even arranged for us to secure good financing terms through the in-house efforts of Paul Patten, another very capable member of the Portsmouth Mercedes-Benz team. Very pleased indeed!
Alex was a total pleasure to transact with--quick, straightforward, knowledgeable, and friendly--we felt he had our backs on this purchase and didn't try to push anything other than provide us with what we wanted. He had the car started and waiting for us when we came to look at it. He knew everything about the car--the finance manager was also a total pleasure--quick and didn't try to push unnecessary add ons--also provided complimentary seal coating and all weather mats with the car (without asking). The total transaction was super quick (no waiting for pricing trades, etc.) and the ...
Staff very helpful with amazing speedy service! Will was amazing both with helping us and keeping us well informed during our process! Thank you to all the staff members!
I took the help of Nick who had been outstanding in explaining about the car and helping me out through the entire process.
Tried and True! There is nothing like a Family-Owned Business. I was 1st introduced to the Kaplan Auto Group about 15+ years ago when I bought a Jaguar. I loved this car, the service they provided and went onto buying another. This car and the Jake Kaplan dealerships were great! I was introduced to Mercedes of Portsmouth through an email and recommended to my son was looking for a SUV and had a very poor experience at another local dealership (Lynnfield). When I learned of this, I immediately contacted the Portsmouth Mercedes Dealership and Eddy Allen returned my call. Within a ...
What a pleasure it was do to business with this dealership and Tuck our expert and professional sales consultant. He steadfastly navigated us through the sales process and has continued to be there for us through ownership. He is always available and ready to help. The service and care this dealership and Tuck provide has impressed us so much that we will continue to purchase and maintain our vehicle out of our home state at Mercedes Benz of Portsmouth.
Tuck is hands down the best part about Mercedes-Benz of Portsmouth, NH. He not only makes buying a car a pleasure but is also super knowledgeable about each product. If you are looking for a great experience, head to see Tuck Abbott. You won't be disappointed!
I was recently in the market for purchasing a quality used car and was pleasantly surprised by the great experience I had at Mercedes-Benz of Portsmouth. I worked with Nick and he was superb from start to finish in assisting me with the purchase. When I arrived, he had the car I was considering ready and waiting for a test drive, provided me with a complete history of the car, offered a respectable trade-in offer for my car and set up financing for me on the spot. I was literally able to drive off with a great car within two ...
Read More Reviews
New Vehicles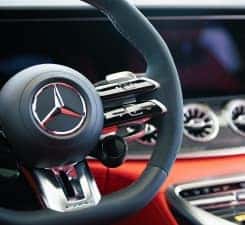 Looking for a new Mercedes-Benz? We've got the best inventory in Greenland.
View Inventory
Pre-Owned Vehicles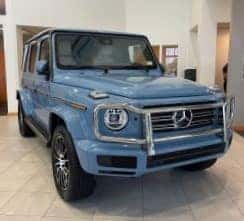 Thinking pre-owned? We've got plenty of pre-owned vehicles in stock.
View Inventory
Schedule Service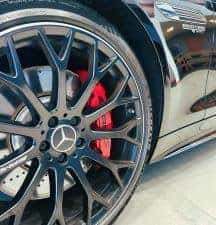 Let our team of trained and certified technicians service your vehicle today.
Schedule Now

– 1 year unlimited mileage warranty (Extended coverage available)
– 164-point Inspection and vehicle history report
– 24-hour Roadside Assistance
Welcome to


Mercedes-Benz of Portsmouth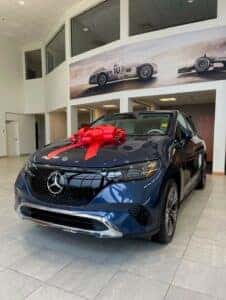 Welcome to Mercedes-Benz of Portsmouth, your source for the latest Mercedes-Benz models in the Greenland area, as well as areas like Portsmouth, Dover, Exeter, Rochester and even Southern Maine. Being part of an auto group that has served drivers like you for over 70 years, we've managed to become an expert in providing automotive care that exceeds driver expectations. That's our goal here at Mercedes-Benz of Portsmouth. We don't think of ourselves as being in the car-selling business. Instead, we see ourselves as part of the driver care and satisfaction business.
From our well-qualified service staff to our knowledgeable sales team, you'll find friendly and passionate automotive experts available to assist you. Not only that, but you'll find a wide selection of vehicles to help you get just the right car for your driving needs, from the latest and greatest Mercedes-Benz models to a huge selection of reliable pre-owned vehicles. Either way, we can't wait to show you what's in-store here at Mercedes-Benz of Portsmouth.